The Roundhouse
Wild West Yorkshire, Thursday 14 October 2010
previous | this month | next
THERE'S JUST time for a latte at the Black Olive at the table by the window looking down Queen Street, Horbury, to the Roundhouse, a gift and card shop.
Without stopping to consider the consequences, I quickly sketch in a passing dog but this turns out to be a mistake because I haven't established the ground level and I've inadvertently drawn it hovering three feet above the pavement!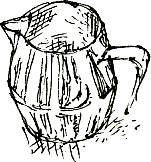 Even so, I think it's good to add a few figures to drawings of streets and buildings. It gives some local interest, a clue to the scale and a spot of animation in what might otherwise appear to be an underpopulated scene.
Richard Bell, illustrator
previous | this month | Wild West Yorkshire home page | next