Potato Bags
Wild West Yorkshire, Wednesday 13 October 2010
previous | this month | next
WE'VE GOT three bags of potatoes on the patio, which Barbara planted about a month ago and we're hoping that by December there will be enough new tubers in them for our Christmas dinner. There's plenty of lush top growth and we've earthed them up just once with peat free compost. It's starting to turn cold on a night so I'm going to have to transfer them into the greenhouse before too long.
We didn't have brilliant crops of potatoes this year, either from bags or from the garden. We're almost at the end of them already. I think the main reason for the low yield was the weather but my book work left us less time than we normally would have to keep up with the weeding. However, we'd go for the same varieties: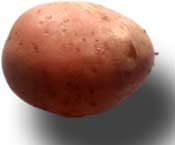 Desiree, a maincrop red-skinned, yellow-fleshed variety, is halfway on the scale between floury and waxy so it's very versatile; you can mash it, roast it or use the larger ones as jacket potatoes. Some of them were surprisingly big, even in this rather disappointing season. Hopefully we'll have a few more of them next year.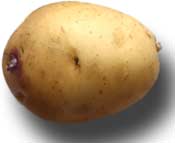 Kestrel, is our favourite. It's a second early, supposedly ready for lifting from July onwards, although we didn't really get started with them until August. It's described as being at the floury end of the scale with 'an old-fashioned flavour' - what I'd call a 'real potato flavour'. It has some resistance to slug attack. Our smaller tubers this year have made reasonable new potatoes, perhaps with a slight tendency to go soft in the water, and we've jacketed some of the larger ones but it has reputation as being good for chips or roasts as it doesn't absorb too much fat.
Every Day Sardine Bake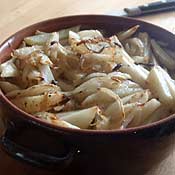 Here's what happened to those two potatoes:
The Sardine Bake from Hugh Fearnley-Whittingstall's latest book/Channel 4 series (full recipe on their website).
First get your oven on; Hugh suggests 180°C, but ours needs to be at 200°C.
Saute one small finely sliced onion in some of the oil from a tin of sardines in sunflower oil, then add a two or three medium sized potatoes cut into matchsticks and soften them too.
From our varieties Desiree would be best, as they should be waxy, but the little Kestrel went in with it too and it worked well. And, as we were getting to the end of our home-grown supply we had to use lots of tiny ones, which took a lot of peeling.
Add some pepper (we're missing out on Hugh's habitual pinch of salt for health reasons). Use some more of the oil from sardines to grease an ovenproof dish add a layer of half of the potatoes and onions, then the sardines and finally the rest of the potato/onion mixture.
Now you have to use your judgement. It needs a little milk, about three tablespoons perhaps. Put the lid on the ovenproof dish (or some foil) and bake for 20 minutes, then remove the lid and bake for a further 5 minutes and test the potatoes to check they're fully cooked.
Lovely, great for lunch with a watercress, spring onion and grape salad with a balsamic dressing..
Richard Bell, illustrator
previous | this month | Wild West Yorkshire home page | next