Towpath Wildlife
Wild West Yorkshire, Tuesday 12 October 2010
previous | this month | next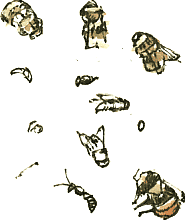 GREENBOTTLES and a small hoverfly visit the flowers of yarrow growing out the a low stone embankment of the track that crosses the Calder & Hebble Navigation at Lady Anne's Bridge. The greenbottles look as if they're made of shiny green metallic armour which glints in the afternoon sun.
The nearby ragwort is even more popular with the insects with a red-tailed bee rummaging through the yellow flowers, more flies and some small elegant wasps. The ivy flowers by the lock-keeper's cottage are buzzing with insects.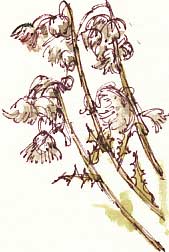 A jay flies across the canal, a long-tailed tit settles briefly in a hawthorn while, in a field of winter wheat, a female pheasant looks puzzled and perhaps a little anxious, as pheasants often do. Really, it's the large flock of free-range turkeys that should be looking worried but they're happily gobbling away. As we're on this side of the Atlantic, these turkeys escape Thanksgiving but there's now only two and half months to go until Christmas. In the meantime they seem to be having a good life.
Creeping thistles have gone to fluffy seed. These distinctive mushrooms (I ought to know the species, but I've forgotten) are showing, as they always do, on a stretch of the towpath below the Figure-of-3 locks. It's been a good autumn for fungi and there's a renewed interest in foraging from the eastern Europeans who've moved into West Yorkshire during the last decade or so. They recognise the possibilities of Boletus growing in local woodlands - it makes a great meal served with onions and potatoes apparently - but because of the one or two deadly poisonous boletes I'd always play safe and leave them alone.
My friend's Russian wife cooked some species of wild fungus recently. Ever cautious, he decided he'd give them a miss.
Hours later his wife said 'Look, I'm still fine!' and the next time she cooked them he was happy to try them.
Test them out on your wife first; that sounds like wise advice!
Richard Bell, illustrator
previous | this month | Wild West Yorkshire home page | next