Birds and Beech Mast
Wild West Yorkshire, Sunday 24 October 2010, page 2 of 2
previous | this month | next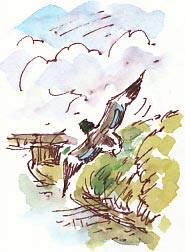 Breakfast-time: A GREAT-SPOTTED woodpecker lands in next door's sumach. It's not every day that they come down at the front; we normally see them in the back garden, adjacent to the meadow and wood.
A drake mallard jinks sideways, releasing the air from under his wings in order to drop to touch down on the canal where he soon swims for the cover of the overhanging trees.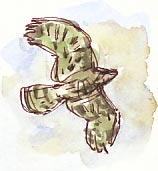 Perhaps it's the sparrowhawk, cruising around over the wooded ridge of Millbank, that has spooked him.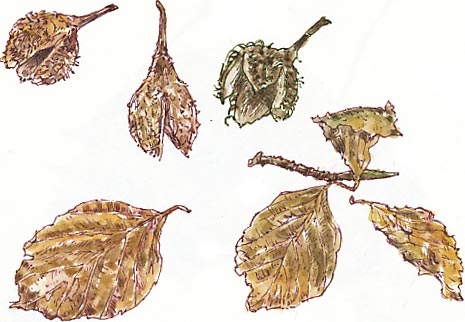 A flock of wood pigeons, about 20 of them, were feeding under the broad canopy of a beech in Thornhill Park. They'd done a thorough job of picking out the beech nuts; all that I could see were empty husks of the beech mast.
Richard Bell, illustrator
previous | this month | Wild West Yorkshire home page | next