Beachcombing at Cleethorpes
Wild West Yorkshire, Saturday 29, Sunday 30 October 2010
previous | this month | next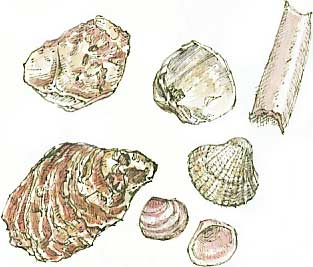 DON'T LET IT be said that I never listen to my mum-in-law; she suggested that I should have a change from drawing leaves and, although I can't oblige her by drawing flowers as she suggested, I have brought these beachcombings to draw during our evening hospital visit for a bit of a change.
Last year from July to September, Barbara and I made several trips to the east of England to try and get a book project underway. It didn't come to anything but I'm sure that I'll go back to it in some form. It was hard work but rather invigorating to zip around Lincolnshire, Norfolk and Suffolk revisiting the places I'd drawn on location for my Richard Bell's Britain book, exactly thirty years before.

Cleethorpes beach proved a problem, not just because of the parking restrictions which made us feel that we had to rush to fit my drawing sessions into the day but also because the weather was wet, windy and unpredictable. In the end, as it neared four o'clock, I set up my pop-up shelter at the edge of the dunes and drew a view of the beach while Barbara braved the rain-lashed, windswept strandline to collect shells for me to draw.
The brown paper bag, marked 'Cleethorpes', has been sitting at the corner of my desk next to my tins of pens for over a year so several 90 minute evening visiting times have at last given me a chance to draw them all.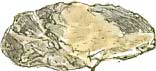 Britain Revisited
My original Britain book was printed as a facsimile sketchbook. It's not difficult to pick up one for a few pounds in a secondhand bookshop or online, although a copy with a decent dust-jacket, which is an integral part of the book as I squeezed an extra location onto it, is usually more expensive. With 70,000 copies printed there are still a lot spread about, in fact when it came out in 1981, someone told me that they'd seen it in the window of a bookshop as far afield as New York!

On our lightning Britain Revisited tour of the 13 locations I'd visited in the Eastern England section of the book, I drew at Lincoln. When I'd visited in the summer of 1979 for the book I'd focused on fossils in the Jurassic limestone of the cathedral, this time, to my astonishment, the RSPB had an observation post at the foot of the 271ft central tower as a pair of peregrine falcon's had just fledged their young on a ledge there and young and parents could be seen and heard perching or soaring about, treating the cathedral as an artificial cliff. To have peregrines nesting on the cathedral would have seemed an impossible dream on my first visit.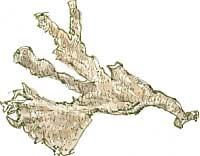 As we climbed Steep Hill up to the cathedral from the town, we called in at the Reader's Rest secondhand bookshop and spotted a good copy of my Britain book with a decent cover. The owner of the bookshop took some convincing that the grey-haired man buying the book was actually the brown-haired young man on the cover!
On my first Britain tour, I used a dip pen with a fine nib and brown Pelikan Special ink plus watercolours, brush and a small plastic bottle of water. Thirty years later I've whittled down my drawing kit; I now take my ArtPen filled with waterproof Noodler's brown ink and a Pentel Aquash waterbrush with a smaller box of the same Winsor & Newton Artists' watercolours that I used back then.
The finished results of the drawing are identical, if you shuffled my drawings from then and now together, I'd be hard pressed to spot the difference in technique.

At the foot of Steep Hill it's always worth calling in at the stationers and art shop Ruddock's of Lincoln; here I came across various sizes of the Pilot Drawing Pen in brown which also give a similar quality of line.

Richard Bell, illustrator
previous | this month | Wild West Yorkshire home page | next