Doves in the Ivy
Wild West Yorkshire, Tuesday 2 November 2010
previous | this month | next
I CAUGHT an interview with Richard Mabey on Radio 4 in which he talked about the connection between nature and recovery, both physical and psychological. While the evidence is anecdotal rather than scientific, it does seem that having some contact with nature - a view through a window or even a picture of a natural scene - can help people recover from illness. Barbara's mum is still pretty much confined to a chair where she can watch the comings and goings on the ward but I'd need to turn my chair around to look at this ivy covered tree (a sycamore?) to aid my recovery.
My way of coping with the worry of her illness and the pressure that it's putting on Barbara and I is to escape to the natural world in my reading. I'm afraid my big complex Sherlock Holmes project was put on hold with immediate effect when she was taken in and I've enjoyed immersing myself in natural history; first reading Chris Packham's Nature Handbook and I'm now enjoying going through Stargazing for Beginners (a.k.a. The Practical Astronomer) by Will Gater and Anton Vamplew. The other day in this diary I was saying how out of date my astronomy books are so this is a great way to bring myself up to date.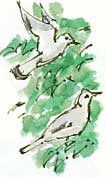 Not much happens as I sketch the trees through the slot windows of the ward except for two collared doves flying in to the ivy-covered tree as the light fades, probably to find a reasonably weatherproof roost for the night but at least this ward has some kind of window onto the natural world. The window is so tall and narrow that I have to keep moving my chair along the end of Barbara's mum's bed to draw one strip after another of the sycamore.
Richard Bell, illustrator
previous | this month | Wild West Yorkshire home page | next