Simple Suppers
Wild West Yorkshire, Wednesday 3 November 2010
previous | this month | next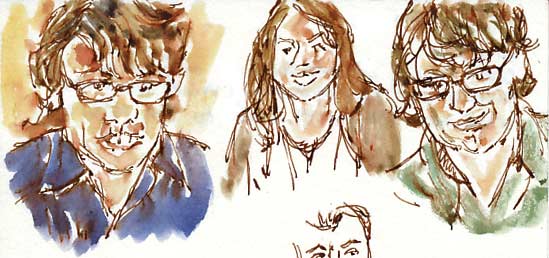 ADDING watercolour the lightning sketches that I make while watching television gives extra information and a bit of life. Tonight we're watching a couple of food programmes; Nigel Slater (above) prepares some of his Simple Suppers while Jimmy Doherty (below) prepares a really simple dish, chips, by the most complex route possible; firing potatoes through a tennis racquet strung with cheese wires in Jimmy's Food Factory.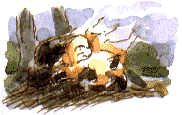 Our bright idea for potatoes - no, not firing them from a bazooka, just growing in a bag - hasn't proved a success, they're now looking thoroughly miserable and wilted in the greenhouse, probably because in the damp weather they've been hit by potato blight.
We had raspberries from the garden right until the end of October but it has now turned colder and finally finished them off. On Monday with the help of landscape gardener Paul, in fact mainly through the hard graft of Paul, we finally got started on the autumn tasks that need doing in the garden. He cut the hedge by the meadow down to size, creating an enormous pile of trimmings which - as it was a still, damp overcast day with no washing hanging in neighbours gardens - we soon got blazing as an early bonfire.

But after the colder days it started feeling mild and moist again to such an extent that one night when we got back from the hospital, I had to remove a large frog which was insisting on hopping about in front of the garage doors as I prepared to reverse the car in.
Richard Bell, illustrator
previous | this month | Wild West Yorkshire home page | next