Reporter's Notebook
Wild West Yorkshire, Wednesday 10 November 2010
previous | this month | next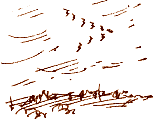 There isn't a lot to report from Addingford steps on a quiet afternoon . . .
A LOOSE CHEVRON of gulls heads east down the valley, perhaps returning to Pugneys to roost on the lake. A dozen crows are heading north, crossing the valley, leaving open country behind; their roost might be in the tree-tops of Horbury.
The clouds over the Pennines change from banks of long cumulus to stratus, forming a pattern like the sandbanks in an estuary. As the sun sets they disperse and it seems as if we're in for a cold night.
Sketching with words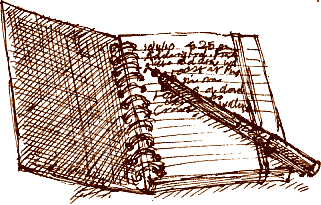 When I get the chance I'll always pick up a pen and start drawing but I'm now thinking, why shouldn't I occasionally try doing the same with writing?
When I was took part in the sketchcrawl in Sheffield recently I was struck by the way the reporter/photographer from the Sheffield Star used a reporter's notebook in much the same way that I use my sketchbook.
In this article he used actual quotes - for instance he quoted me saying that I would probably have been hunched over my computer that weekend if I hadn't come on the sketchcrawl and that I felt being out with a group gave me a 'license to draw'. His efforts to write down the exact words that people used gave a liveliness and ring of truth to the article that you wouldn't have got if you'd made up a few quotes later. His photography also showed that he had an eye for a telling detail.
Of course when I've out with my sketchbook, the drawing itself brings back a lot of memories later but words trigger memories in a different way. I looked at half a dozen different reporter's notebooks before selecting an A6 'Pukka Pads Jotta Polyprop' which should be perfect for field notes. It's spiral bound with a waterproof polypropelene cover and a elastic strip so you can flip open on the current page.
Link: Pukka-Pads
Richard Bell, illustrator
previous | this month | Wild West Yorkshire home page | next