Opening up the View
Wild West Yorkshire, Tuesday 9 November 2010
previous | this month | next

WHEN I'M RESEARCHING local history, I sometimes try to picture the landscape before it got built up. What would it be like if you could see the vistas that were closed off when Wakefield expanded during the industrial revolution and in the post war housing boom?
I noticed a long lost view reappear last week. On the Horbury Road out of Wakefield I could see the far side of the Calder Valley through the trees. There was a strange feeling of light and air flooding into a familiar ribbon development streetscape.
Since the 1960s the view has been blocked by the long, low bulk of the mail order warehouse of Empire Stores, latterly trading as Redcats. As a boy, before the warehouse and offices were built, I remember going to Bertram Mills circus on the playing fields that then filled the whole site. There are still playing fields and a golf course on what were once the grounds of Lupset Park. Lupset Hall is the club house of the golf course. A map of 1841 shows dog kennels immediately to the west of the Empire Stores site, as far away from the hall and neighbouring settlements as they could be, although any intruders approaching from Horbury Road would have been spotted by the resident hounds.
| | |
| --- | --- |
| | View Larger Map |
| Ordnance Survey, 1841; there's an Osier Bed, growing willows for basket making, between the Manchester and Leeds Railway (1840) and the River Calder. One condition of navigation along this stretch of the river was that barges should use sail, not barge horses, as they passed by Lupset Park. It must have looked picturesque from the Hall but must have meant extra work for the bargees! | Google Maps image |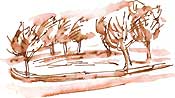 On the Dewsbury Road at Flanshaw the little local library, a 1950s square redbrick building, was demolished last week and there's not a trace of rubble there now, just a ring of trees surrounding a vacant lot.
Empire Stores was where Barbara had her first job and Flanshaw Library was her last job (before her present one). She seems to be the Jonah of workplaces at the moment! British Ropes, the other place she worked, was demolished 20 years ago and is now the Cathedral Retail Park.
Where have all the Blackbirds gone?
Or, more specifically, why aren't we seeing them back in the gardens as we normally do at this time of year? This was one of the questions in the observations section that opens every Wakefield Naturalists' Society meeting. Blackbirds from the continent join our native birds at this time of year. It's been a good autumn for berries and the suggestion is that the blackbirds are still finding plenty of food in the hedgerows, so they aren't coming into gardens in any numbers yet.
Also taking advantage of the supply of berries; waxwings. Record numbers have been seen, again they're arriving in Britain now to escape the hard winters on the continent.
Richard Bell, illustrator
previous | this month | Wild West Yorkshire home page | next