Gull Primary Feather
Wild West Yorkshire, Monday 8 November 2010
previous | this month | next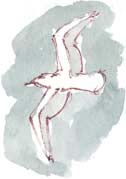 THIS GULL primary feather has a 'dipped in ink' black end with a worn down remnant of a white 'wing mirror' at the tip. From its size and the shade of grey it looks like a herring gull feather.
Today the rain, lashings of it, continued all day and the only sketches I made were from cafe at Asda and later from the shelter of the car at Crigglestone, of autumn trees now losing their leaves rapidly. A few black-headed gulls were oblivious to the poor weather, cruising above the car park as they might cruise above the grey North Sea on the look-out for trawlers.
My generalisation the other day that gulls were grey above, white below, isn't really true. These had grey and white striped wings; in the poor light I couldn't make out the black streaks on the wing that I would expect them to have. While grey would give them tonal camouflage against the sea as seen from above, stripes would serve the equally useful purpose of breaking up the outline of the bird.
We were surprised when we passed Thornes Park the other day to see a couple of gulls perching in the top of a horse chestnut tree. You don't normally expect to see gulls in trees, not even on a day like today when the tree would provide a bit of shelter but I have seen cormorants nesting in trees, years ago on a nature reserve in France.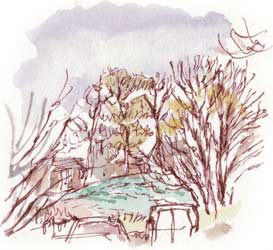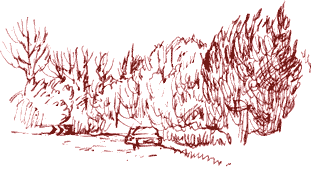 Richard Bell, illustrator
previous | this month | Wild West Yorkshire home page | next