Daft Yorkshire Customs
Wild West Yorkshire, Tuesday 23 November 2010
previous | this month | next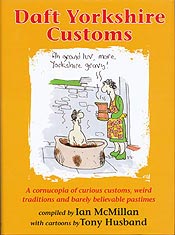 THIS EVENING at Rickaro, the bookshop in Horbury where Barbara works, poet and author Ian McMillan and cartoonist Tony Husband are signing copies of their new book, Daft Yorkshire Customs, 'A cornucopia of curious customs, weird traditions and barely believable pastimes.'
Tony is not only signing but also drawing individual cartoons in books. He has to work fast as the queue stretches right around the bookshop. He catches me perfectly (right), rightly picturing me as out painting trees on a large canvas, I did a series of those in early spring 1996. The sheep doesn't look too impressed by my efforts though!
Tony's cartoons regularly appear in The Times, Private Eye and Playboy.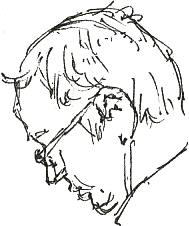 I don't get far with my attempts to sketch him at work because I keep seeing people I know in the queue, including a mum who has just written a book and her daughter who recently auditioned for Britain's Got Talent. She might just win as we've certainly got a few talented children - and adults - in Horbury. I also meet a composer from Wakefield who seems strangely familiar; he reminds me that I drew him some twenty years ago at a craft fair at the Girls' High School.
Drawing the Crowd
While Ian entertains a packed bookshop of the 60 poeple who've turned up for the event, Tony sketches the audience joining in the chorus of one of Ian's poems inspired by a drinks machine with attitude that he encountered in his days at Radio Sheffield.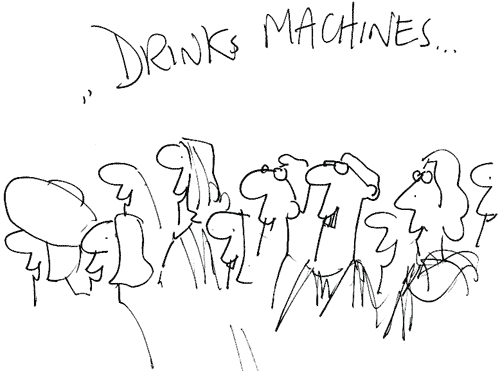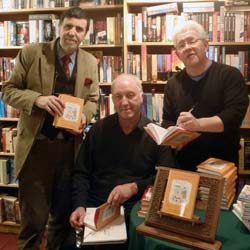 You can identify some of the people in his cartoon from the photograph that I took (below). As the Express photographer had to dash away to the switching on of the Christmas lights in Castleford, I had to take over using my little Olympus Tough. As I've got shaky hands and the exposures get tricky in low-light conditions I handed the camera to Carol, wife of Richard Knowles, the bookseller, for the photograph (left; Richard Knowles, Tony Husband, Ian McMillan) that appears in this week's Express.
It shows that you shouldn't go anywhere without pen, sketchbook and pocket camera.
Links: Ian McMillan, Tony Husband, Rickaro Bookshop, Daft Yorkshire Customs is available from the Dalesman or from your local bookshop.
On Monday 29 November Tony is taking part in Imagine a Tiger, An evening of Stand Up Poetry + Music + Cartoons, at Screen on the Green Cinema, 83 Upper Street, London N1.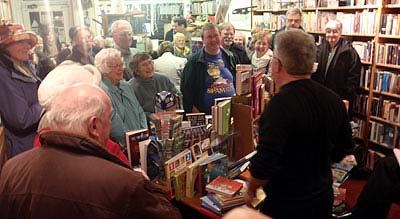 Richard Bell, illustrator
previous | this month | Wild West Yorkshire home page | next