Snow Flurries
Wild West Yorkshire, Wednesday 1 December 2010
previous | this month | next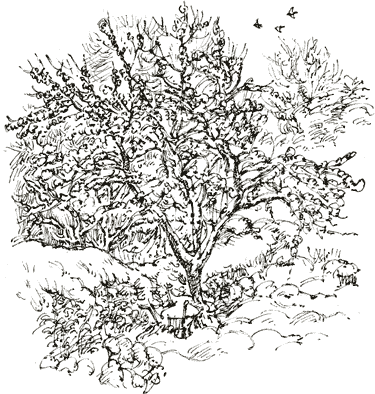 MY ZERO tolerance approach to snow on the driveway isn't going to work for the next day or two. I'd hardly finished clearing it this morning before it started snowing again and this afternoon I was just about to go out during a break in snow showers but a flurry started before I was able to put my boots on.
After my brief sketch yesterday, I thought I'd have another attempt at a snow scene. This is our Golden Hornet crab apple seen through the back door. It's an interesting problem, trying to show white stuff on white paper. The subject is almost entirely defined by its surroundings. It's a case of working around the shapes you're trying to show.
Speaking to my mum on the phone she tells me that the snowy weather and an item on television about the Liverpool Blitz 70 years ago this week has reminded her of the Sheffield Blitz, which came a few weeks later in December 1940.
Richard Bell, illustrator
previous | this month | Wild West Yorkshire home page | next