A Hole in the Ice
Wild West Yorkshire, Thursday 2 December 2010
previous | this month | next



A PAIR OF MUTE SWANS, 21 mallards and one white farmyard duck have gathered at the one open pool that remains on the frozen canal, kept open by a small beck that flows in via a culvert here. One of the swans waddles over to us; people have been coming down here to feed them.
On our bird feeders in the back garden, a goldfinch

and a willow tit

join the regular birds.
Weston Park, Sheffield has had its deepest snow - 38cm - since records began in 1882. We've missed a lot of it but it's built up to about 8 inches (20cm) deep but considerably deeper in places where it's drifted. We decide to cancel the weekly run with my mum this morning as the forecast is for heavy snow at lunchtime and looking out from my studio window in the direction of the Vale of York I can see a bank of grey cloud rapidly looming towards us, however it doesn't amount to much.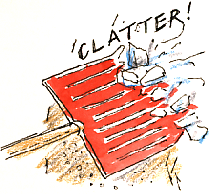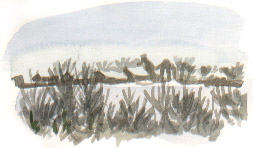 It's the unpredictability of the snow that has made it so difficult for the authorities to plan for and, on a smaller scale, for us it means that, after waiting all day for the predicted heavy snowfall, by the time we come to scrape and brush away the little that has fallen it has remelted and partly turned into solid ice. We use far more table salt on our driveway each year than we do in our cooking.
Richard Bell, illustrator
previous | this month | Wild West Yorkshire home page | next