Purston Jaglin
Richard Bell's Wild West Yorkshire Nature Diary, Thursday, 11th March 2010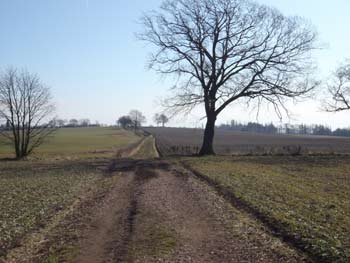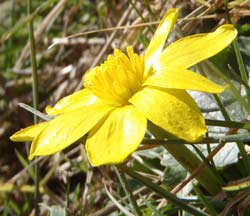 A PERFECT MORNING for the first walk for my new booklet; sunny and surprisingly warm, in this sheltered dip in gently rolling arable land east of the village of Purston Jaglin. I'm pleased to hear my first skylark and in a hedge by Castle Syke Hill, see my first lesser celandine in bloom. I stop and drink my flask of coffee sitting on the bank of a drainage ditch where sticklebacks appear to be starting to set up territories. There's plenty of activity as they dart about in the clear water just above the muddy bottom of the ditch.
The countryside reminds me of the lonely stretches of the Wolds yet we're within a mile of Pontefract. Although the area is so close to home, I've done very little walking within the immediate vicinity of the town. If this first walk is anything to go by, I shouldn't have any trouble finding attractive routes for my book. I know there's plenty of history in the area for me to illustrate with drawings and perhaps a few small comic strips.

Purston Park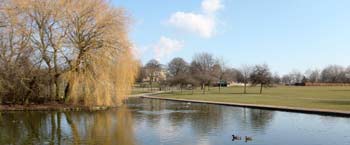 I've driven past Purston Park several times without realising how extensive it is, with this large duck pond (almost large enough for me to call it a park lake) and mansion, Purston Hall, now divided up into dwellings. As you leave the park and cross the road to head out on my route over the fields, you pass an entrance lodge (right). This didn't belong to Purston Park; it marked the boundary of the estate of a country house in Ackworth to the south east of Purston.
I'm pleased with the results that I'm getting from my new little camera - this is the first time I've used it for gathering information on a walk, which is one of the main reasons I chose it. The landscape and the flower would look great in my book but my intention is to stick mainly to my pen and watercolour drawings. As well as sitting at my desk drawing from a photograph on my computer, I now have the option of putting a few photographs on my USB memory stick and plugging that into our widescreen television and drawing them from a little further back. An efficient way of collecting information but if we have more weather like today's and if I ever get to the end of my various other jobs, I shall probably start drawing some scenes on location again.