Frog Stars
Richard Bell's Wild West Yorkshire Nature Diary, Saturday, 20th March 2010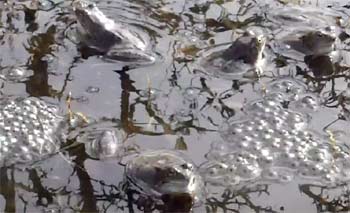 FROGS AREN'T good at taking direction. They insist on going out of frame as I attempt to film my first wildlife movie. I set up my new Olympus Tough camera on a tripod by our back garden pond and leave it running for 10 minutes. Hopefully I can find a suitable clip from their sporadic tussles for a 5 minute film I'm making for Wakefield Naturalists' Society members' night next month.
Gusts of wind riffle the surface of the pond, confusing my little camera, which can't decide whether to focus on the froggy action or the reflection of the bare branches of the Golden Hornet crab apple that keeps appearing when the water settles again.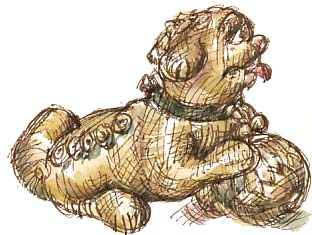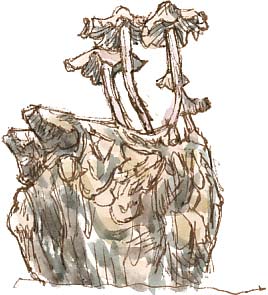 The Chinese basketwork puppy and the fungus model were drawn at Barbara's sister Susan's. At least they stay still as I focus on them.