The First Day of Spring
Richard Bell's Wild West Yorkshire Nature Diary, Sunday, 21st March 2010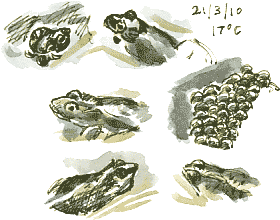 A DOZEN or more frogs have been active all day in the pond, croaking and pursuing each other around. At lunchtime a whole heap of them gathered at one end of the pond, a pyramid of interlocked legs.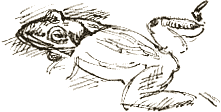 The low-pitched whirring of the police helicopter over Coxley Valley brings seven of them to the surface.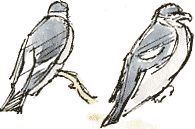 4.30 pm; feeding time for the birds: blue tit, starling, sparrow, greenfinch, chaffinch, goldfinch, dunnock, great tit, blue tit, collared dove, wood pigeons and three blackbirds, the two males continuing their dispute about which of them owns the raised bed behind the pond with posturing and outright agression.
OK, so that wood pigeon does look a bit like a vulture in my drawing; I'm a bit rusty in drawing from life but I've enjoyed taking a hour or two off today. There's something about a page of drawings from life; however much the drawing lags behind reality something of animated nature spills over onto the page, in a way that it wouldn't in the most careful tracing of a photograph.