Catching up
Richard Bell's Wild West Yorkshire Nature Diary, Monday, 8th March 2010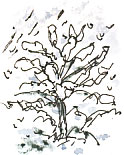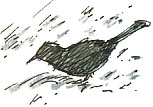 AFTER A FUNERAL, A FESTIVAL, a school visit, a couple of walks through wintry rhubarb fields and a book launch I feel that at last I'm coming back down to earth so here are a few sketchbook pages that didn't make it into my online diary during recent weeks.
Sunday 21st February; At breakfast-time it snows for an hour or two, piling two or three inches on branches and walls.
A blackbird continues to feed in the shelter of the hedge.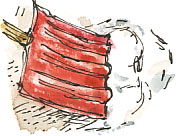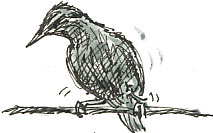 Today the phone wire across the road is covered with snow but yesterday I watched a starling sidle along, using the action you'd use if you were passing a length of rope from hand to hand. It stopped every few seconds to peck between the wires - were there spiders or other small invertebrates hiding in there?
Our snow scraper is getting worn down this winter. It used to have a straight end, now it is worn down to the corrugations, so that it leaves tracks in the snow.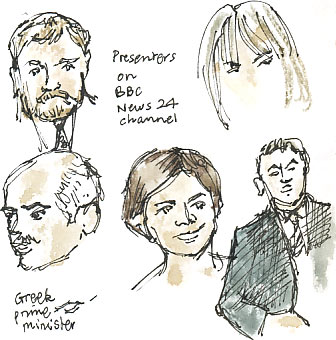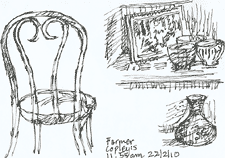 I've fallen behind with my sketchbook since but one evening, trying to keep drawing every day, I sketched the presenters on the BBC News 24 channel and the Greek prime minister, who was being interviewed.
Monday 22nd February; I drew the chair at Farmer Copley's Farm Shop and the bowls and vase back at home.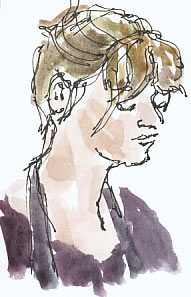 Tuesday 23rd February; out delivering books again, this time to Armitage's Garden Centre at Shelley. We took a coffee break and were lucky enough to get the corner table overlooking the partially snow covered hillside beyond Shepley (top of page). They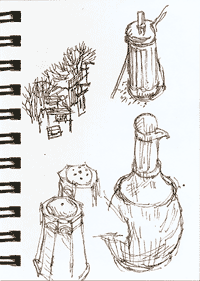 have a camera trained on the bird feeders so we could see long-tailed tit, blue tit, bullfinch, great tit, greenfinch and collared dove in wide screen close-up as well as in real life 10 yards below us. On the journey we saw a kestrel and two sparrowhawks (not together) near Emley.
Finally here are an assortment of sketches made in cafés, shops and Queen Drive Fisheries. I had met the waitress (left) before; in my Royal College of Art days her parents - and their then new-born baby daughter - lived at the in a single room opening onto the landing halfway up the stairs. Her father Roger Gardner was a year or two ahead of me; he was in painting, I was in the natural history illustration. In fact in that particular year I was the first and only student in John Norris Wood's natural history illustration department.