The Model Studio
Richard Bell's Wild West Yorkshire Nature Diary, Tuesday, 9th March 2010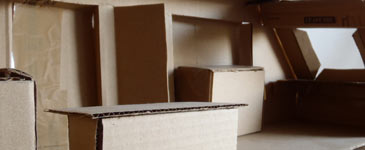 I ENJOYED converting the roof space at the end of my studio into a storage space but I'm pleased to have Simon the joiner come along today and put the finishing touches to it. He's got the tools to cut a simple molding for the architrave around it and the little ramp covering the awkward join between laminate flooring, plasterboard and the timber of the stud wall that I knocked through (below, right) .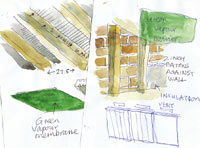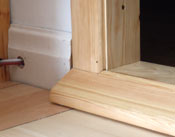 After all those intensive 12 hour stints at computer and drawing board in January getting the artwork for Walks in Robin Hood's Yorkshire ready for the printers, a suitably ambitious do-it-yourself project of realistically limited extent was a welcome contrast. Although there was plenty of physical work I also liked the continuous problem-solving that it involved. These sketches for the project (left) were made years ago but in the end I went for foil-coated insulation boards, which were more expensive but more thermally efficient and also required a little less work on my part to install.
The scale model of my studio (above left), made from an Ikea cardboard box, was made to work out a scheme for giving me a shallow alcove about 6 inches deep to push my oak plan chest back into, with room above for a few extra bookshelves. The plan was to create the space by taking the outer skin of bricks from of 5 foot length of what was once an outside wall (my studio is an extension on the side of the house), inserting a reinforced concrete lintel to support the wall. Of course I wouldn't set about removing part of a structural wall so this would definitely be a project for a professional!

I would be just over six inches high if I'd made a cardboard cut-out of myself to the same scale. I think you can tell from this elaborate model that I love theatre design! I could imagine this as the set for some gloomy stylised drama like Samuel Beckett's Krapp's Last Tape. Once again, I'm delighted with the versitility of my new little Olympus Tough 3000 camera for being able to photograph subjects like this in macro mode.
Blue Tit Box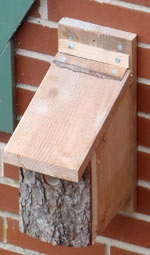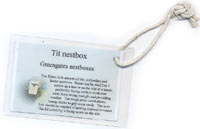 I even managed a home improvement project for blue tits today, fixing this nest box to the north-east facing wall of our patio, well above cat level and sufficiently high for me to avoid knocking my head against it. The stout douglas fir timbers, from sustainably managed woodland in South Lakeland, should be effective in resisting the attacks of woodpeckers or magpies. It's made by Nigel Marshall of Greengates Nestboxes, Grange over sands.