Jamie does Marrakesh
Richard Bell's Wild West Yorkshire Nature Diary, Wednesday, 14th April 2010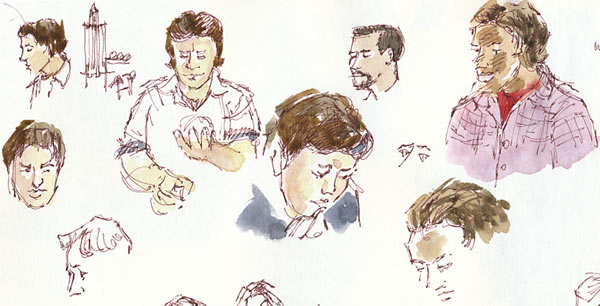 JAMIE OLIVER concludes that the best way to get to know a place is through its food. His Jamie does Marakesh succeeded in being more than a culinary travelogue because of his enthusiasm for the practical side of the everyday cooking and baking of Morocco. No Masterchef Michelin Star restaurants were featured; the focus was on what anyone could pick up at the local market and cook at home in a tajine or in at one of the many communal ovens. I've been researching the markets of medieval Wakefield for my Robin Hood project and I can imagine that the manor bread ovens in what is still known as Bread Street worked in a similar way.
I particularly liked his demonstration of how to put together a Moroccan 'bachelor's hotpot'; you buy a terra-cotta pot, shaped a like a wide-mouthed Grecian urn, and go around the various stalls of the market having it filled with vegetables, spices, chunks of a lemon, a cheap cut of lamb and a measured amount of olive oil and water (the butcher knew exactly how much to add) before taking it for 4 hours cooking in the embers of the fires that heat the water for the swimming baths. Going back even before the medieval period, I guess things were done in a similar way in Roman cities such as Pompeii.
The director of this series treats Jamie as a kind of live-action cartoon character, zipping through the narrow alleys on a moped, going through mysterious old doors or down ancient stairways into rambling cellars, the action unfolding at the pace of a Tintin story. It brings the souk and the old town to life in the way that a more soberly informative documentary couldn't. I was astonished when Jamie said they'd filmed the entire programme in just two days. Like Tintin, he remains relentlessly cheerful and open to what life throws at him (although even he admitted that the heady bustle of the evening food stalls was 'doing his head in').
Marakesh looks like a friendly, colourful place to explore with a sketchbook but, because of the fast pace of the editing of the programme, I had to focus on Jamie in the sketches I made during the programme.
Link: Jamie Oliver