Fresh Fields
Richard Bell's Wild West Yorkshire Nature Diary, Saturday, 1st May 2010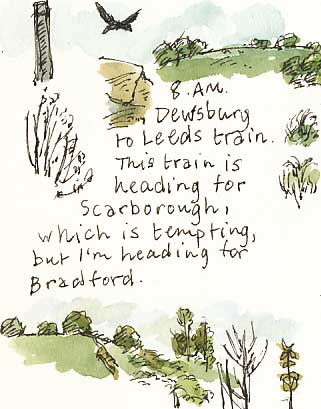 I SHOULD perhaps be reading my Robin Hood booklet, as I'm on my way to do a radio interview about it but I've been stuck at home far too long and a train journey from Dewsbury to Bradford via Leeds seems too much of an adventure to miss by having my nose in a book.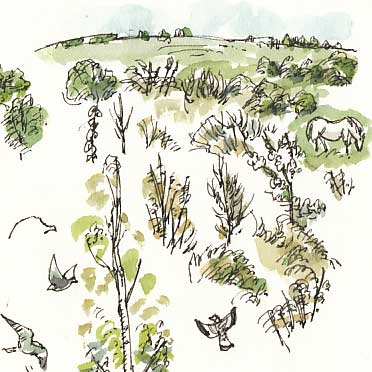 I added the colour to these quick sketches later. On the last leg home from Leeds to Wakefield I managed to piece together a composite landscape (above) of trees, hills and clouds that I'd been sketching in snatches as they flashed by on the outward journey.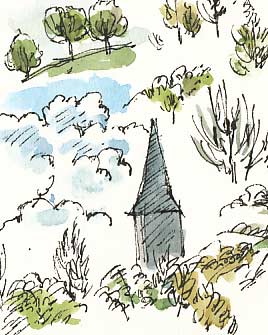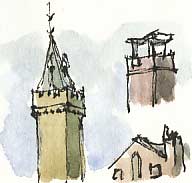 The country between these populous cities can sometimes look a bit tired and a little the worse for wear but this morning, with rafts of cumulus billowing across the blue skies and with trees in blossom or bursting into leaf, it looks fresh and inviting to explore.
In the morning sun, Bradford looked promising as I stepped out of the interchange with the town hall ahead and Little Germany signposted to the right but to reach the Museum of Media you've got to negotiate a succession of fenced-off development sites and blocked off walkways so that when you finally arrive at the museum you feel rather isolated from the rest of the town. Unfortunately they launched into an ambitious city centre scheme immediately before the downturn and they've been stuck with the unfinished results for a few years now.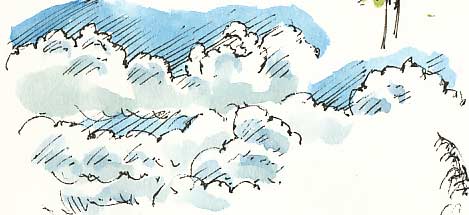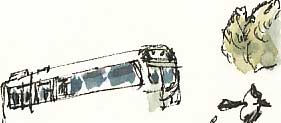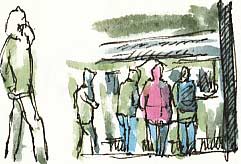 We managed to catch up a bit with the garden this afternoon - now I've recovered from planting the Swift potatoes!