Xscape to the Country
Richard Bell's Wild West Yorkshire Nature Diary, Sunday, 2nd May 2010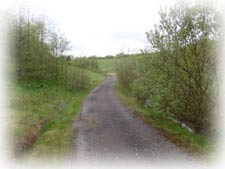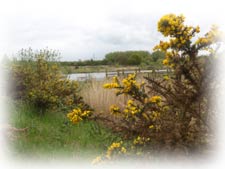 AT THE FAR SIDE of the pool in this photograph you can just see an upstanding rock; perched on it was a heron. We'd just disturbed two of them as we walked alongside a ditch, through a narrow valley cutting through the former spoil heap of Glasshoughton colliery, which stood on the site of what is now the Xscape indoor ski slope and Junction 32 retail park.
It was raining when we arrived so we had a browse through the numerous outdoor shops of the retail park - about half a dozen of them - then, during a dry spell, made our own Xscape across the railway station footbridge and soon found ourselves in the attractive reclaimed landscape of Mickle Hill (left).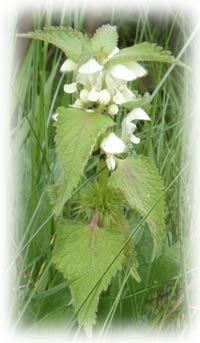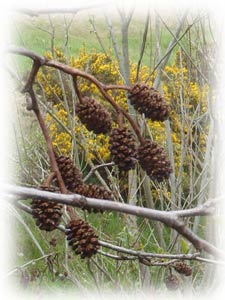 We made it a circular walk by crossing the footbridge over the M62 and following a bridleway through fields of oilseed rape (above).
White deadnettle is now in flower in the hedgerows as is gorse (top left) on drier slopes. Alders (right) had been planted alongside the ditch and in wetter areas.