Greenhaugh
Richard Bell's Nature Diary, Northumberland, Tuesday, 13th July 2010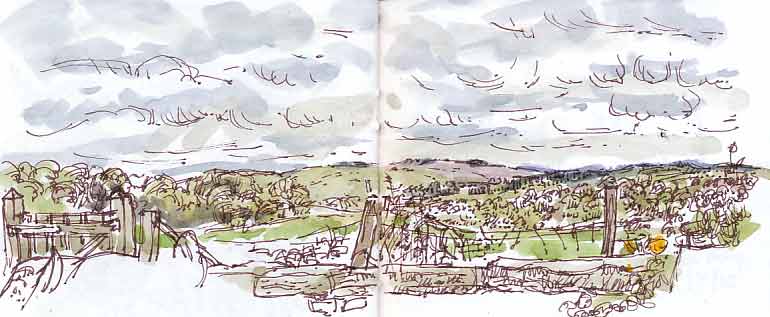 I DREW this view to the south-west from the beer garden behind the Holly Bush Inn at Greenhaugh, near Kielder Water in the Northumberland National Park. A swallow sat on a telephone wire, twittering. Cockerels gave a rather strangulated crowing. A Tornado fighter rumbled across below the clouds. We've managed to squeeze in a very short break here; two nights at this 300 year old inn, 164 miles from home via the A1 and A68 but a world away in atmosphere; according to the Campaign to Protect Rural England, Kielder Forest is the most tranquil spot in England.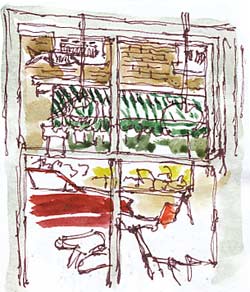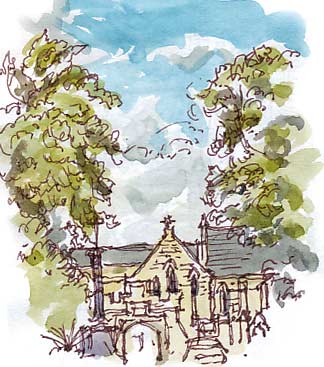 You'd think from recent pages of this diary that my life consists mainly of coffee breaks, but in fact it consists mainly of frantic activity and it's just in the few breaks that I get that I can settle down to draw. This morning's sketch (left) is of The Fruit Basket, Boroughbridge, seen from Bowe & Co. Deli and Café drawn over a latte and cinnamon toast.
Lunch; another small historic country town, another tempting café; this is the market cross and St Andrew's, Corbridge, seen from a table outside Martha's Tea Rooms, over a pot of tea and garlic mushrooms on toast.
Corbridge Revisited
It's exactly 30 years ago this month that I last stayed in Corbridge when I drew the penultimate double-page spread of my Richard Bell's Britain wildlife sketchbook here. It's curiously downbeat; I selected a very ordinary corner of a field but my handwritten text gives the reason: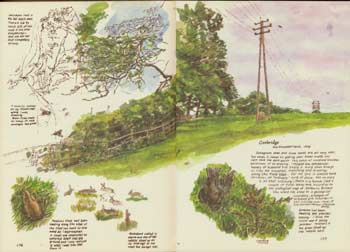 Sphagnum peat and sand dunes are all very well, but when it comes to getting your boots muddy you can't beat the dark earth. This patch of woodland breathes earthiness of an evening. I enjoyed the spectacular scenery of Scotland but there is more than eough to keep me occupied, watching and drawing, along this field edge.
With its rabbits, flies, jackdaws, power-line poles and wych elms, page is a celebration of the everyday delights of drawing nearer to my home patch.
Link: The Holly Bush Inn, Greenhaugh