Goats
Richard Bell's Wild West Yorkshire Nature Diary, Monday, 12th July 2010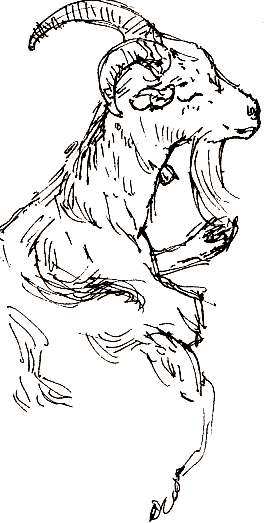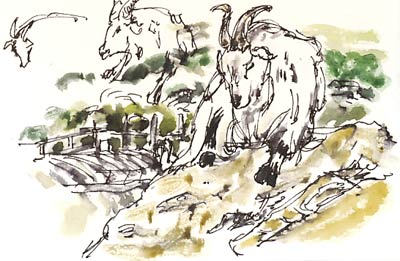 THIS NANNY (left), billy and their kids have a mini-mountain of sandstone boulders in their pen at the Charlotte's Ice Cream Parlour at Whitley. One of the kids doesn't as yet have the agility of its parents, slipping as its climbs to the summit where the billy (right), which has angled horns, is resting, surveying his domain. Another kid goes for the safer option of bedding down in the trough from which the nanny is feeding.
I drew them, and this view (below, right) from the parlour over the Calder Valley towards Mirfield, a few weeks ago, when I also got the chance to try a cone of homemade mango ice cream and a sample of a Nutella-flavoured variety. We've been experimenting with liquorice-flavoured ice cream for our latest walks booklet and came up with a recipe for Pontefract Cake Ice Cream with Liquorice Langue du Chat biscuits (which neatly use the four egg-whites left over from making the ice cream). The resulting ice cream is so delicious that we feel they should add it to the flavours on offer at the ice cream parlour.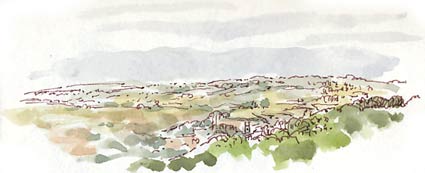 Mist over Shepley
This morning, over a cup of coffee and a toasted teacake, I drew similar view of woods and pastures near Shepley, seen from the 1842 Café at Armitage's Garden Centre. In contrast to yesterday's sun, it's cool, misty and rainy today.

Farm Festival
I drew the tree (left) with the bench around it at the Festival @ the Farm at Copley's Farm, Purston Jaglin, the weekend before last. The weather was different again on that day with a strong wind billowing the canopy of our market stall. Holding on to the flapping end of the sheet of canvas and feeling the power of the wind is the nearest I've come to the experience of sailing a yacht.
If I draw a tree from memory, I tend to go for a yellowy green. In contrast, trees at this time of year often have a strident bluish (viridian) cast to them.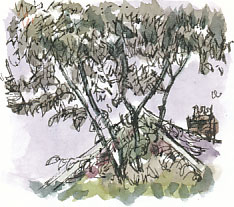 The light was fading when I drew next door's sumach (far right), seen through our front window, so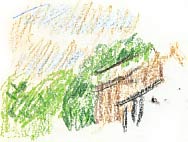 the colour was fading fast. I happened to have my crayons with me on a brief visit to the opticians recently (right). Twenty years ago, I often added crayon to give an extra texture to my watercolours. I've never done much in crayon alone.