Animation Workshop
Richard Bell's Wild West Yorkshire nature diary, Thursday/Friday 26-27 August 2010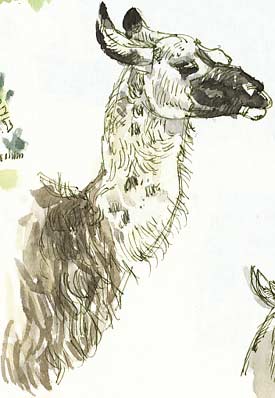 THIS WORKSHOP organised by Animated Yorkshire gives me the pleasure of two days drawing at a zoo but I haven't had to travel far because the Ponderosa Rare Breeds Park is only seven miles drive from home, at Heckmondwike.
Even before the workshop starts, I have a few minutes to draw the llamas which are grazing in the paddock next to the car park. There's a ring of wooded hills to the south and east; a surprisingly rural outlook as we're at the centre of a ring of small towns, once known as the Heavy Woollen District. A perfect setting.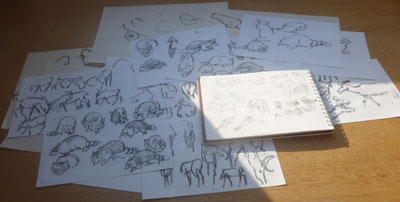 Charcoal drawings
But the point of enrolling on the course is to work a little outside my comfort zone. It's fascinating to work alongside animators again (the last time was 30 years ago when I worked on Watership Down!). It gives a refreshing new slant on drawing from nature.
My usual policy is to look and look and carefully build up a page of detailed drawings. This is very different; our tutor, animator Zane Whittingham, encourages us to watch the way the animal moves and, if necessary, to attempt to capture the movement with a single line.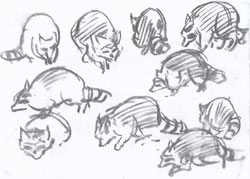 Keep looking at the animal and draw with a continuous line he urges us as we draw a frilled lizard that a keeper has brought into our studio in one of the zoo's Portakabins. As you can see from my drawing (left), I have great difficulty with that and I find a large marker pen is very unforgiving to my drawing; there's nowhere to hide! So I grab a stick of charcoal, a drawing board and a wad of A4 copier paper as we head out into the zoo.
So often in animation, Zane tells us, there's a temptation to simply walk your character from A to B. The raccoon (right) demonstrates for us how many variations there can be on getting from A to B as it scurries, ambles, climbs, jumps, nuzzles and even reaches through the mesh to examine a student's drawing board. There's so much character in the way it moves and, Zane suggests, you could use the movement you've observed in animating a completely different character. It reminds me of some actors who claim they don't completely get themselves into a character until they've worked out how that character walks.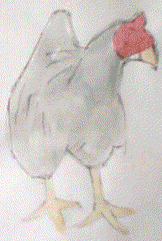 So, for my animation the next day, I consider drawing one of the zoo's hens ambling in perspective towards the camera. Zane wisely suggests a far simpler movement and I trace the two hens (right) facing right and left as the first and the last frames of my cartoon.
I sketch out a timeline in the form of a very rough storyboard; at 24 frames a second even this small movement involves drawing 32 frames. The halfway point, where the chicken is looking directly towards us, is frame 16 but, as in most actions, the movement takes a moment to gain full speed and then slows down towards the end so I allocate more frames to the beginning and end.
It seems like an inordinate amount of frames as I traces the 'in-betweens', holding drawings against the window which is our makeshift lightbox today.
One of the experienced animators helps me photograph my 32 drawings and I'm the last to finish then, at the end of the day, we get to see 10 different animations; a parrot preens; a llama flicks its ear; a pot-bellied pig trundles away, flicking its tail.
It's magical to see drawings come to life. I've learnt a lot from the workshop.
Links: Ponderosa Park, Animated Yorkshire, Animating Animals (including me working frantically on my chickens!)