The Illusionist
Richard Bell's Wild West Yorkshire nature diary, Friday 17 September 2010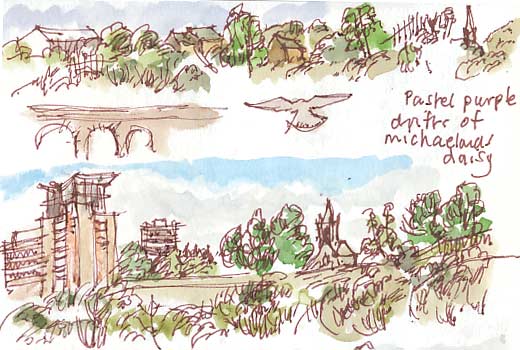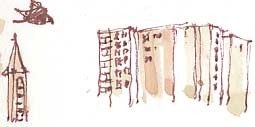 A COUPLE of the students at the Natural Form workshop last week were talking enthusiastically about Sylvain Chomet's recent animation L'Illusionniste so I'm taking the train to Bradford this morning to catch a matinee performance at the Media Museum. It wasn't until a month ago that I got the chance to see Chomet's previous animation, Belleville Rendezvous, on television and I wished that I'd had the chance to see that on the big screen.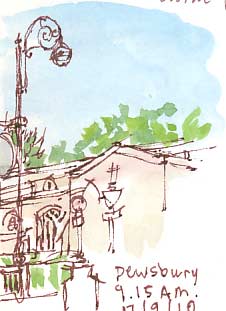 I'm impressed and moved by what Chomet and his team have achieved in atmosphere, lighting and characterisation. It makes me realise how much I would enjoy having the time to do more ambitious drawings but for today I'm so grateful to have a couple of short spells of un-get-at-able time to myself on the train to draw the passing scene on the outward journey then add colour as I return.
I'm surprised that The Illusionist didn't make it into the local multiplex cinemas - perhaps I missed it - but the Media Museum is an appropriate place to see it because, while I'm waiting for the movie to start, I get the chance to take a look around the animation section on the sixth floor. There are examples of the props, cells and miniature sets from animations such as Wallace and Gromit, Tom & Jerry and Animal Farm. I also at last come face to face with one of Ray Harryhausen's star performers in Jason and the Argonauts, 47 years after I saw him on the big screen; the bronze colossus who guards a Greek Island and who comes to life and climbs down from his plinth striding mechanically and creaking menacingly. In real life he looks much, much smaller ! (About 12 inches rather than 120 feet high).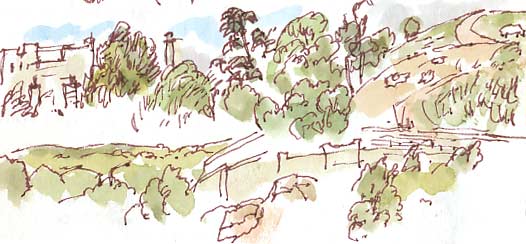 Harlequin Ladybird
There were dozens of harlequin ladybird larvae (right) and pupae (right) and one or two adult ladybirds on the leaves on the sunny east-facing shrub bed by the platform at Dewsbury station. Droneflies and hoverflies visited the blossoms, while a single wasp hunted around a leaf. It would be great if our native wasps developed a taste for the harlequin ladybird Harmonia axyridis as it's an alien species that appears to be ousting some of our native varieties.
Finally, this is about all that has gone into my sketchbook since I returned from London: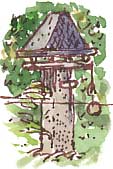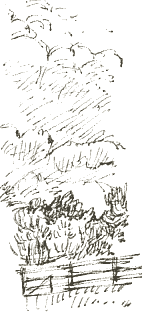 This home-made bird table was built to last by Barbara's mum's neighbour and is securely mounted on a concrete clothes' post.
The sketches were made from the cafe at the farm shop. Hope I get the chance for something more ambitious before too long!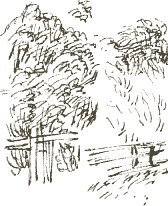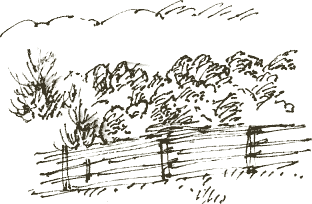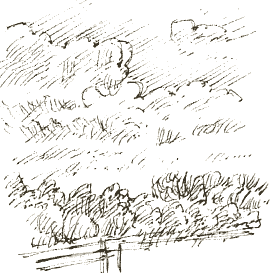 Link: L'Illusionniste (French site, Flash only)