Forest Drive
Richard Bell's nature diary, Northumbria, Wednesday 22 September 2010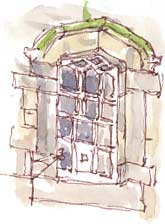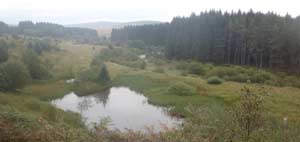 THE FOREST DRIVE from Kielder Castle to Blakehopeburnhaugh on the A68 runs through some of the most remote moorland and forest in England. We had views of a pair of crossbills and of a buzzard which looked over its shoulder, watching us from the top of pine perhaps 10 yards from the road. Our car acted as a hide; I'm sure that it would have flown off straight away if we'd stepped out of the car.
With its rough, gravelly surface most of the way, the Forest Drive wasn't designed with our little Wagon R (above) in mind but, to give the impression that I zooming along like a rally driver, I've to added motion blur and blazing headlights to the photograph using filters in Photoshop .

Before we set out on the drive we visited Kielder Castle (right), built in 1775 as a hunting lodge for the Duke of Northumberland. We also visited the Kielder Salmon Centre where in the interactive quiz we got the correct answer to all the questions except one, which was how many salmon are bred at the Centre each year; the answer is 900,000 and they also breed freshwater pearl mussels and Ennnerdale charr, a rare Lakeland species of fish which is currently in decline in it's natural habitat.
Otterburn Mill
Teasel gets its name because it was used to 'tease' the nap on woven cloth. This teasel head (left) is the cultivar that was grown for the purpose. Compared with the wild teasel that we grow in our garden it's more cylindrical and the not as spiky as the spines are curved at the tips. I drew it in the weavers restaurant at Otterburn Mill, seven miles down the A68 from the end of the Forest Drive, where they still have various textile machine used in woollen blanket weaving including this one that includes rows of teasels fastened into frames.
Links: Otterburn Mill , Forest Drive , Kielder Salmon Centre