Runswick Bay
Richard Bell's Wild West Yorkshire nature diary, Saturday 4 September 2010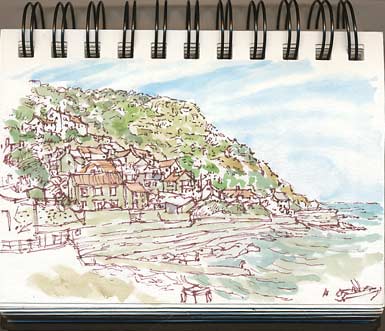 BLUE SKY streaked with cloud, a rugged cliff above dense scrubby woodland and the red roofs of the cottages cascading down to the bay below; Runswick Bay seemed as if it was designed to be painted in watercolours.
I wasn't the only one who thought so; an open-air watercolour class was in progress and it was too good an opportunity not to sit on an adjacent bench and join them for an hour and do my own sketch, the last in my A6 Daler Rowney sketchbook which I've been using off an on since February.
Matthew Palmer was taking the students through each of the elements of the scene with step-by-step demonstrations followed by plenty of hints on colour mixing and drawing and frequent individual advice and encouragement to each of his students. Working through the scene as a group, they'd already established sky, sea and cliff and were now grappling with the complex arrangement of roofs.
'How have you managed to get so far at this time of the morning?' I ask.
'We started at 6.30!' Matthew tells me (he's lying; they were here yesterday too!)
Shades of Grey
Inevitably we get onto the subject of palettes. I explain that in my pocket box, I've gone for the recommended Winsor and Newton range of two of each of the primaries with a few extra secondary colours - Matthew uses something broadly similar - but I tell him that the Winsor and Newton Paynes grey can be a bit strident with its cool green cast.
He's had similar problems so he's devised his own neutral mix of the three primaries which he dubs 'shadow grey'. I try a squirt of it in my palette. You can get some impression of it, within the limitations of colour reproduction on screen, from my swatch (right). A watercolour manufacturer has included this useful grey - neutral without being monochromatically uniform - in their range.
The cool breeze from the sea freshens and Matthew suggests a break for coffee at the cafe by the lifeboat station. It's encouraging to work with a little group as the others spur you along and Matthew keeps the group focussed by offering advice and encouragment every step of the way. Apparently the hotel where they're staying in Whitby is pretty good too - there's a cup of tea and a different home-made cake at the end of each day when they return from their sessions outdoors. Sounds perfect!
Link: Matthew Palmer, watercolour artist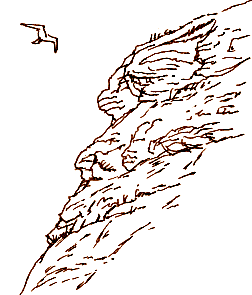 Reverting to pen and ink, here are a couple of sketches that I did as we browsed around the bookshops of Whitby yesterday. Walking along the beach, I hadn't quite worked up the appetite for fish and chips at Trencher's so I said to Barbara, what I'd really like to find is a little crêperie. And we did! - the sketch on the left was made from the little back yard of the Courtyard Crêperie on Skinner Street as we waited for our roast pepper, cherry tomato and mozarella crêpe.