Acts of God
Richard Bell's Wild West Yorkshire nature diary, Sunday 5 September 2010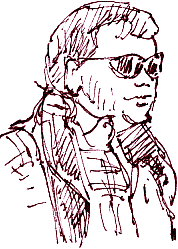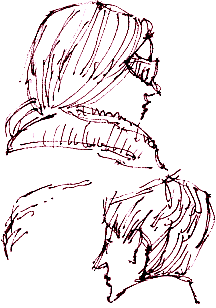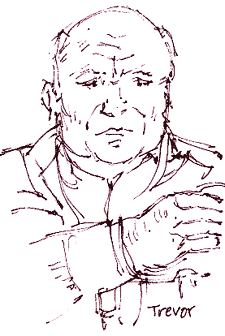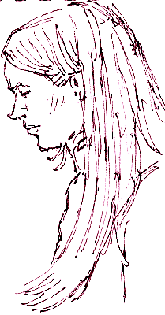 Guests at this morning's christening drawn in my new little cigarette packet-sized sketchbook, which fits in the top pocket of my shirt.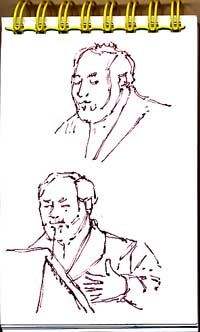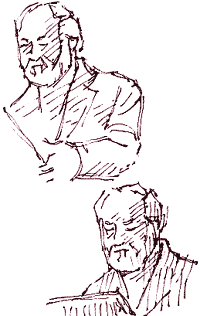 RON RICHARDSON'S SERMON considers an episode from Acts of the Apostles, in which St. Paul and Silas, visiting Philippi in Macedonia on a mission to reform the early church, are beaten and imprisoned (and this was before the trial!) after performing a controversial exorcism. At midnight their prison is rocked by an earthquake which throws their cell door open. The jailer, expecting severe punishment for allowing his prisoners to escape, is about to commit suicide when Paul reassures him that they're still in the cell. The grateful jailer, impressed by the cheerfulness and faith of his captives, becomes one of the first European converts to Christianity.
We're in Christ Church, South Ossett, so I'm surprised that Ron makes no mention of the magnitude 7.0 earthquake which hit Christchurch, South Island, New Zealand at 4.30 am local time yesterday. There's no question and answer session after the sermon so the obvious question that comes to mind; if the story in Acts implies some element of divine purpose or some overarching grand design even in such a disastrous event as an the earthquake in Philippi in AD 49 or 50, what are the people of Christchurch to make of the destruction that ravaged their city?
Discussing it later with one of the guests at the christening, I'm offered the answer that, as Christ points out in the Sermon on the Mount, God makes the 'sun to rise on the evil and on the good, and sendeth rain on the just and on the unjust'.
Insurers used to refer to such events as 'acts of God'.
Link: Christ Church, South Ossett