---

Hips, Haws and Ducks




Wild West Yorkshire Nature Diary,
Wednesday 2nd December 1999
---
Nature Diary
Rocks
History
Gallery
Links
Home Page
---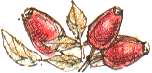 FIELD ROSE still has small hips dotted around on the branches tumbling through the laneside hedge. The bigger hips of Dog Rose, which taper towards the end, are more conspicuous, on the its stouter, arching branches. These are sketches from earlier in the season, the branches are now bare of leaves.

Despite the presence of flocks of Fieldfares and Redwings there are still plenty of berries on some of the Hawthorns.



On the river seven Mallards are resting on a tiny island on a quiet section of the river. A Dabchick dives nearby.
The gas cylinder has drifted downstream since I sketched the scene last year.


Garden birds, including Great and Blue Tits, Greenfinches and Chaffinches are coming into the gardens more and more, drawn to bird tables.


Richard Bell,
wildlife illustrator
E-mail; 'richard@daelnet.co.uk'
---
Next page
Previous day
Nature Diary
Wild West Yorkshire home page

---