The Runtlings

Monday 2nd October 2000, 1/2, West Yorkshire





Nature Diary Rocks History Workshop Links Home Page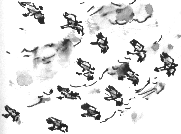 THE ANGLO SAXON name Runtlings means 'stubble meadow' and today that's a fair description of this area south of Ossett, overlooking the Calder Valley. From the footpaths that cross these hedgeless fields there's a view up the valley to the Pennine moors, wreathed in low, ragged cloud.

A large flock that rises over the ploughland splits into three sections; white, black and pied - gulls, crows and lapwings. Each goes its separate way.



An old railway track, part of a line that ran from Wakefield to Dewsbury, is now a walkway. Alongside what was the junction to a colliery branch line rosettes of leaves of Horseradish grow. Small grey snails, each the size of child's sweet, sit on some of the leaves.




Richard Bell,
wildlife illustrator
E-mail; 'richard@willowisland.co.uk'

Next page Previous page This day last year Nature Diary Home Page