---

Wrens




Wild West Yorkshire Nature Diary,
Tuesday 29th February 2000
---
Nature Diary
Rocks
History
Gallery
Links
Home Page
---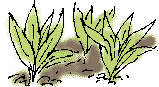 WRENS are singing again in the wood. This is the first day that we've heard them, they're such powerful little singers that we could hardly miss them. Dogs Mercury adds it's bright green to the duller Ivy beneath Hazel and willows. Wild Garlic gives an almost tropical lushness to the streamside.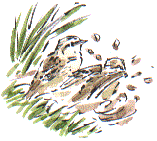 The pond is busy throughout the day, birds bathe at the pebbly end. Fifteen or more Frogs have gathered amongst the water plants in the middle.

There's a sudden cry of outraged alarm as 'Whitetail' our resident Blackbird gets up from the pond edge and zooms off behind the shed.


Richard Bell,
wildlife illustrator
E-mail; 'richard@daelnet.co.uk'
---
Next day
Previous day
Nature Diary
Wild West Yorkshire home page

---