Crow walks, gull dips and the fig nibbler
Wild West Yorkshire nature diary, Sunday, 17th January 1999

Two Mute Swans stand together on a rise on the flooded Strands. With the water at its present level it seems as good a place as any to nest.



The crow walks about to forage on a field of sprouting barley.



The gull (black-headed) hovers into the westerly wind, dipping to investigate anything of interest - the same technique it would use over water.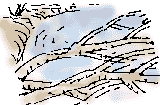 Where an isolated fig bush overhangs the river, some creature has ventured out to nibble at the bark layer. Perhaps a rat or a vole?



Standing stockily in the field corner amongst the weeds and brambles, a rolled straw bale has a punk character, with bailer twine bandana and grass-green crew cut of sprouted grains.



Greenfinches and Mistle Thrushes are amongst the birds on pastures that still have traces of medieval ploughing. One of the thrushes flies over to the railway and settles briefly on a signal gantry. When it was built in the 1830s, the engineer on this railway was George Stephenson.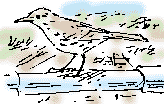 Richard Bell, wildlife illustrator
richard@daelnet.co.uk
Next day
Previous day
Nature Diary

Wild West Yorkshire home page