A Walk on Woolley Edge
Wild West Yorkshire nature diary, Monday, 18th January 1999

The panorama from Woolley Edge includes cloud low over the moorland tops of the South Pennines and the Peak District.



A boulder newly up-ended as a standing stone by the footpath shows a layer of small gravel-sized quartz pebbles. Woolley Edge Rock is a tough coal measures sandstone that, in its outcrop at Woolley, resembles the Millstone Grit that makes up the Pennine moors.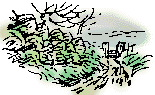 In a birch/sessile oak wood on the scarp slope, a sandstone wall supports a luxurious growth of moss. There are no lambs as yet amongst the ewes on Woolley Moor.


A woodland now follows the embankment that marks the line of a railway tunnel to the east of Woolley Edge, tunnel ventilation towers, heavily protected with rolls of razor wire, are dotted along the line. On rotting logs small Lycoperdon puff balls give off puffs of brown spores when tapped.



Returning from the moor (which, in fact, is now enclosed as pasture and arable) you get the best view of Woolley's situation. Although now mainly a commuter village it is still centred on its church with a working farm near its centre.



Beyond the village to the east lie the woods of Newmillerdam and the reservoirs of Cold Hiendley and Wintersett. In the south east, nearer Barnsley, a coking plant still operates.



Richard Bell, wildlife illustrator

Next day
Previous day
Nature Diary
Wild West Yorkshire home page
Contact Richard Bell