Slugs and Rain
Sunday 2nd July 2000





Nature Diary
Rocks
History
Workshop
Links
Home Page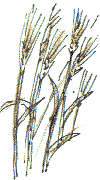 IT WAS DULL and cool on several days while we were away, but we never had more than a spot of rain during the day. Today it really feels as if the holiday is over. Despite the cool and wet, my brother Bill, who insists in doing things in style, continues cooking under the cover of a tarpaulin for our family barbecue, while we eat indoors.

While we've been away our lettuces have bolted. At least the Slugs seem to be enjoying the weather.

A Meadow Brown is one of the few reminders that it is still summer. It flies up from the Wall Barley.

Other spots of colour are the Grey Wagtail (brighter than its name suggests) flying over the river and Toadflax in flower on the railway bridge. The yellow flowers are like miniature snapdragons. If you're on a train journey at this time of year you're almost bound to see it at the trackside or growing on an old siding.

Two aromatic plants grow on the embankments to the bridge. They both remind me of the smell of Martinis (not that I smell many Martinis these days, you understand). Neither are in flower yet.

Mugwort (left) is a tall plant with finely divided leaves which are dark green on the upper surface but much lighter below.



Wormwood, another plant of wasteground, isn't as common as mugwort but it grows in similar waste places. It has paler greyer leaves, not so deeply divided and rounded instead of pointed at the end. I'd say that, of the two, wormwood has the stronger, resiny, smell.


Richard Bell,
wildlife illustrator
E-mail; 'richard@daelnet.co.uk'

Next day
Previous day
Nature Diary
Wild West Yorkshire home page