Tunnel Vision
Monday 13th March 2000

Nature Diary
Rocks
History
Gallery
Links
Home Page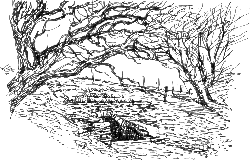 TAKE A SHORT WALK from Caphouse Colliery, Overton, near Wakefield, now the National Coal Mining Museum for England, and you can see what are said to be the world's oldest railway tunnel and viaduct. They date from the 18th century, when rails were made of timber and horses drew the wagons. The line was used to carry coal from collieries near Flockton to staithes on the River Calder, where the coal was transferred to horse-drawn barges (which also carried a sail). The tunnel was constructed as a means of crossing the route of a rival colliery railway, which connected Caphouse and Denby Grange collieries to river at Calder Grove.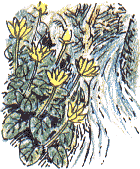 By the way, John Blenkinsop of Middleton Colliery, who I mentioned yesterday, was for many years consulting engineer for this group of collieries, until he retired due to ill health in 1830.
In nearby Dial Wood, Coxley Valley, patches of Wood Anemone are now in flower, along with Lesser Celandine, Golden Saxifrage and the clover-shaped leaves (I didn't see any flowers as yet) of Wood Sorrel.

In what was originally a settling pond for water draining into Coxley Beck from Denby Grange Colliery, we see some 20 or 30 Common Toads. Most are fairly active underwater and they are joined by a couple that had been sitting on a floating plank, which jump in as we pass by.

Toadspawn is laid in bootlace strips wrapped around underwater plants. Although so much is laid together that it appears to a series clumps you can see that the black dots of the embryos are arranged in lines. It gives the effect of a hank of bobbly knitting wool wrapped around the water plants.


Richard Bell,
wildlife illustrator
E-mail; 'richard@daelnet.co.uk'

Next day
Previous day
Nature Diary
Wild West Yorkshire home page