---
Mines, Malls and Motorways




Wild West Yorkshire Nature Diary,
Tuesday 2nd November 1999, part 1/2
---
Nature Diary
Rocks
History
Gallery
Links
Home Page
---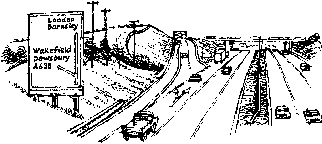 I'M GLAD IT'S NOT EVERY DAY, but this morning I have to commute along the motorway. Today is the 40th anniversary of the official opening of the first stretch of Britain's first motorway, the M1.
Shepherd Hill, the site of junction 40, near Ossett, has been a landmark on routeways for the best part of two millenia, and probably longer than that.
Roman Road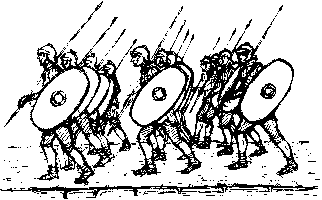 The Roman Road between Doncaster and Manchester, via Wakefield and Dewsbury, is believed to have crossed the line of the M1 here. The place names 'caster' and 'chester' mean 'a city or walled town, originally one that had been a Roman station' and are derived from the Latin castra.

As long ago as 1453 the area to the west was known as Streetside. The same road passed through Streethouse to the east of Wakefield. The Anglo Saxon straet referred to a straight Roman Road.

No trace of the Roman road came to light during the construction of the motorway.
Wakefield and Halifax Turnpike
The A638 Wakefield to Dewsbury Road, formed part of the Wakefield-Halifax turnpike, approved by Act of Parliament in 1740. Blind Jack of Knaresborough (1717-1810) was the surveyor for parts of the road. The last toll bars at Ossett and Dewsbury were removed on 14th May 1866.
Great Northern Railway
The Wakefield, Batley and Ossett Branch came through a cutting here which is still visible as a dip in the motorway embankment just north east of junction 40. The line was axed a few years before the motorway was built.
Colliery Tramway

'In 1796, Robert Smithson of Low Laithes took a lease of a coal field higher up the valley and in 1798 he and his Wakefield partner opened that colliery and a railway connecting it with the Calder and Hebble Navigation at Thornes Wharfe, Wakefield. The railway was horse powered and was of L-section rails on stone block sleepers.'

Harry Marshall, A History of Low Laithes Golf Club
A rival colliery company used oxen to pull the wagons along a tramway that ran parallel to this line, an west to east route in the valley to the north of Shepherd Hill.


Richard Bell,
wildlife illustrator
E-mail; 'richard@daelnet.co.uk'
---
Next day
Previous day
Nature Diary
Wild West Yorkshire home page

---