---

Washlands




Wild West Yorkshire Nature Diary,
Monday 22nd November 1999, 1/3
---
Nature Diary
Rocks
History
Gallery
Links
Home Page
---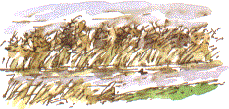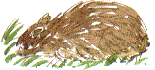 AS WE START our walk by Stanley Ferry Marina, near Wakefield, we spot a Brown Rat crouching out in the open by one of the buildings. Fluffed up as it is, you'd almost think it was a children's pet.

We follow the canal upstream to Southern Washlands, a wetland nature reserve created on land that was once mainly derelict. As we approach the fishing lake we get the classic, if cliched, view of a Kingfisher, perching on an old fishing club sign.


There are only a few duck on the lake but there is a flock of about 20 Tufted Duck on the river nearby. A Cormorant flies overhead.


Richard Bell,
wildlife illustrator
E-mail; 'richard@daelnet.co.uk'
---
Next page
Previous day
Nature Diary
Wild West Yorkshire home page

---