Sandal Castle

Book Review, Wakefield Express, 2nd November 2001

Rocks History Workshop Links Home Page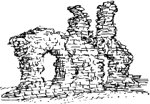 New castle guide on sale
A NEW pocket sized guide detailing the long and turbulent history of Sandal Castle has gone on sale.

The book by Middlestown author and illustrator Richard Bell chronicles the ancient site from its early days in the 1100s through to its heyday as a major medieval fortification and onto its present day ruins.



A trail map takes visitors on a walk around the site from the castle gatehouse to the bakehouse overlooking the once-grand drum towers.

Artist's impressions show the scene as it might have appeared on the spot six or seven hundred years ago and looks at how its inhabitants lived from day to day.




Wakefield Express


Sandal Castle by Richard Bell, ISBN 1-902467-05-1, priced £2.95, is on sale at Ottakars, Town Hall Tourist Information Centre and the Museum in Wakefield, also at Rickaro Books and Godwin's Newsagents in Horbury. It's not yet available nationally so, if you'd like me to send you a copy, post free in the U.K., please e-mail me for details.


Related Link
Rickaro Bookshop


Richard Bell,
wildlife illustrator
E-mail; 'richard@willowisland.co.uk'