Pandora's Island

4th January 2001, West Yorkshire






This Month Rocks History Workshop Links Home Page








THERE'S A THIN MIST over the park lake. The small island here is shrouded in mystery. As I wrote in my book on Thornes Park;


A statue of Pandora stood on the larger island in a little temple. Pandora is the 'Eve' of Greek mythology; Zeus created her to have beauty, grace, intelligence . . . and the power to deceive. Her draped figure held Pandora's box, from which all the evils of the world flew forth, until only Hope remained inside.

No-one knew how old she was, where she came from or even, for certain, who she was. The Temple, which was marked on a map of 1851, fell into rather dilapidated condition and was eventually destroyed in a gale prior to 1970.


Today there's no sign of this folly.


Winter Birds

Sixty Canada Geese make their way from the lake to the deserted football pitch.

Parties of Magpies are flying from tree to tree, while the occasional Carrion Crow strolls on the turf. At the foot of Lowe Hill a flock of 50 Redwings flies from the trees around the Clarence Park arena.


Dead Wood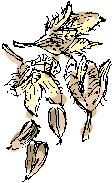 There's an old Beech tree at the crest of the slope overlooking Wakefield. I guess that it is older than nearby Holmfield House, which was built in the 1830s. Its bark is more furrowed than most beech trees, but even in winter I'm sure it is a beech because there is such a quantity of beech mast beneath it.

Some of its limbs stick out almost at right angles and are the size of a small tree themselves. It has recently lost two of them, which lie on the ground beside it. Beech trees are notorious for occasionally shedding a bough without any warning. A large bracket fungus, a light-brownish variety with pale gills, grows from the trunk.

As I look up at its branches a Great Spotted Woodpecker flies across. It's reminder of the importance of dead wood for wildlife. But how to strike a balance between habitat creation and the safety of visitors using the park is a tricky decision.
My booklet Thornes Park is available from Willow Island Editions.


Richard Bell,
wildlife illustrator
E-mail; 'richard@willowisland.co.uk'

Next page Previous page This day last year This month Nature Diary Home Page