Stanley Marsh

Monday, 1st October 2001, West Yorkshire






This Month Rocks History Workshop Links Home Page




SHELTERED FROM the wind, it's surprising how many butterflies and dragonflies there are around today. The red Common Darter and blue Migrant Hawker are on the wing in the shelter of the hedges and trees alongside the railway walk, now part of the Trans-Pennine Cycle Trail between Stanley Ferry and Stanley Marsh nature reserve, just to the north of Wakefield.





On a sunny woodland edge, in addition to both the dragonflies, Speckled Wood and Comma butterflies are also active.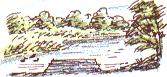 I dip a net several times into the pond but all I catch, besides a lot of oak leaves and smelly black mud, is a single small Water boatman.

The marsh is on a an old colliery site. I once met a man here who
brought his granddaughter to see the place where, as a boy, he helped his father to look after the ponies. Since then mining subsidence, and the construction of what appears to be dam, has transformed meadow into wetland. Perhaps colliery spoil is polluting the water at the bottom end of the lake.



Richard Bell,
wildlife illustrator
E-mail; 'richard@willowisland.co.uk'

Next page Previous page This day last year This month Nature Diary Home Page