Birds on Ploughland

Tuesday, 9th October 2001, West Yorkshire






This Month Rocks History Workshop Links Home Page



AS I WALK past the window it strikes me there's something odd about the dead leaf on the patio table. With binoculars I'm able to see the scalloped edge of the wings of a Comma butterfly.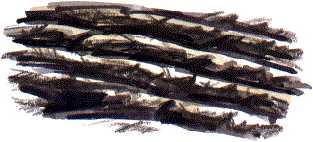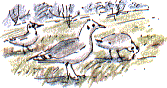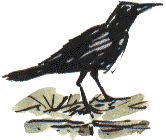 There are 30 Black-headed Gulls (now without the black cap) and as many Carrion Crows on a ploughed field by the canal. Several Magpies and Wood Pigeons and a single Pied Wagtail have joined them.



Amongst them I've seen a Kestrel land, as I'm scanning with binoculars to try and find this brown bird against the brown furrows I find a Brown Hare, which makes its way in a leisurely zigzag fashion down towards the canal so that we get a close view of it.



Richard Bell,
wildlife illustrator
E-mail; 'richard@willowisland.co.uk'

Next page Previous page This day last year This month Nature Diary Home Page