Hunters' Marsh

Monday, 17th December 2001, West Yorkshire






This Month Rocks History Workshop Links Home Page



THERE'S A WAKE on the canal. I stand at the edge to see if I can catch sight of whatever has made it. A small pinkish nose and a furry snout appear from under the concrete edging. For a moment I think it's going to be a Water Vole but it soon shows itself as a Mink, the predator that might have been responsible for the disappearance of Water Voles from this stretch of canal.

For several minutes it keeps peering at me, then turning back under the banking, only to reappear to take another look at me. There's no vocalisation. When it looks up I can see there's an arrow of white fur on its throat. After

popping in and out at least half a dozen times it finally disappears beneath the banking. I see no tell-tale bubbles or movement in the plants nearby, so perhaps it has a burrow there.



Two Kestrels hover over the marshy field, next to the canal.

A dozen or so Rooks and a few Jackdaws feed amongst the green shoots of the field on the opposite bank of the canal. Eleven Goldfinches fly over scrubby wasteground by the river.


River Cliff

The Calder has undercut some drystone walling that has been constructed at some time to protect a low, silty river-cut cliff. I haven't noticed this drystone walling before. It looks quite old, but this could just be because it's north-facing and often underwater and has become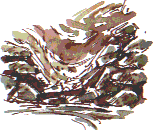 weathered over the course of a season or two.

Erosion may be bad news for the people who graze horses on the narrow pasture between river and canal but it provides a natural cliff which the Sand Martins nest in during the summer.



Richard Bell,
wildlife illustrator
E-mail; 'richard@willowisland.co.uk'