Pennine Journey

Monday, 19th February 2001,
West Yorkshire to Cumbria






This Month Rocks History Workshop Links Home Page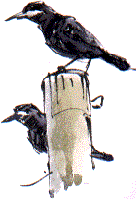 AS SOON as we get onto the motorway we pass a Kestrel hovering over the embankment, its head motionless as its wings and tail dip and spread to hold its position in the updraught. An hour later we're past Leeds and onto the Skipton bypass where a kestrel is being mobbed by a Rook which dives at it to chase it from its perch on the top of a lamp post.

The only obvious flowers are drifts of Snowdrops in the woods.




The tide is well out at Morecombe Bay, revealing a vast expanse of sandbanks. Near Greenodd, Oystercatchers probe the sand alongside a tidal channel near the mouth of the River Crake.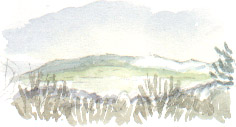 We arrive at our destination, Eskdale, by late afternoon. Clouds hang over the Lakeland fells at the top end of the dale, and a mushroom cloud of vapour rises over the Sellafield reprocessing plant.



Richard Bell,
wildlife illustrator
E-mail; 'richard@willowisland.co.uk'

Next page Previous page This day last year This month Nature Diary Home Page