Tankersley

Friday 7th September 2001, South Yorkshire






This Month Rocks History Workshop Links Home Page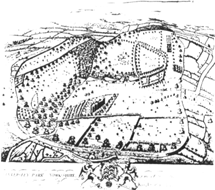 AS WE drive down the M1 motorway between Sheffield and Barnsley we pass through what was in 1727, according to Daniel Defoe, the largest deer park in Europe. There had been 280 deer in the park in 1653 but by the late 1800s the Park had long been split up and the remaining deer were moved to Wentworth.

Tankersley Hall was built in Elizabethan times but by the 1730s it was in ruins and some of its stones were taken to build a nearby farm.


If this ruin, visible a few hundred yards to the east of the motorway between junctions 35 and 36, looks familiar it might because you've seen it in the film Kes, based on Barry Hines' novel A Kestrel for a Knave. In one scene Billy Casper, a local boy 'with nowhere to go and nothing to say', climbs the ruin to take a kestrel chick from the nest.

I've just taken my paperback copy off the shelf; I have to smile when I read the cover blurb from this 1975 Penguin reprint.


This is not just another book about growing up in the North. It's as real as a slap in the face to those who think that orange juice and comprehensive schools have taken the meanness out of life in the raw working towns.
(If I remember rightly, the then secretary of state for education and science, Margaret Thatcher, had abolished the free orange juice by then.)



Richard Bell,
wildlife illustrator
E-mail; 'richard@willowisland.co.uk'

Next page Previous page This day last year This month Nature Diary Home Page