Oxley Bank

Monday, 4th November 2002, West Yorkshire




Rocks | History | Workshop | Links | Home Page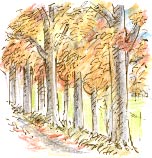 The scarp of Oxley Bank overlooks Bretton Country Park, rising 50 metres above the lakes set in the 18th century parkland. Autumn colour is now at its most intense and many of the trees are still hanging onto their leaves. The gold of the beech and the reddish ochre of the oaks have the warmth and glowing intensity of a Kodachrome colour slide, especially when seen against the blue sky on this calm sunny afternoon .
Jackdaws call in the treetops along the ridge, pheasants burst into flight and hurtle off over the adjacent fields.
Follies and Fungi

It's a view of the park I haven't seen before; from here I can see why Bella Vista, the shallow-domed hill behind Bretton Hall, got its name. It's now covered with conifer plantations. A block of larches is turning to its autumn ochre (as the needles start to fall) amongst the darker pines. When you're up there amongst those conifers you don't realise what commanding views this hill must once have had. At one time a folly, a kind of Gothic pyramid, was built up there.
Showing up in the distance is a 21st century addition to the landscape; a huge white box of a warehouse or factory unit on what was the green open space left when Shuttle-eye colliery closed down 25 or 30 years ago. These gargantuan warehouses are springing up like mushrooms at the moment, often next to motorways.

'Mushroom' isn't quite the right word for it; they look like Brobdingnagian pizza boxes and they blend in with the landscape just as effectively as their smaller Styrofoam equivalents do.
We don't spot much in the way of fungus as we enjoy our walk around this quieter corner of the park but back in the car park the bole of an old felled sycamore is sprouting oyster fungus.
Fasciated Dandelion

On the mown grass nearby there's a curiosity; a dandelion which has grown with a strap-like stem topped by a flowerhead which, instead of being round in the usual way, has grown in the shape of the bristles of a toothbrush.
My friends assume that it has just been trodden on but it has actually grown like that; a condition known botanically as fasciation. I've come across it several times in dandelions and also, on one occasion, in a daisy.



Richard Bell,
wildlife illustrator
E-mail; 'richard@willowisland.co.uk'

Next page | Previous page | This day last year | This month | Nature Diary | Home Page