The Haywain

Sunday 10th March 2002, West Yorkshire




Rocks History Workshop Links Home Page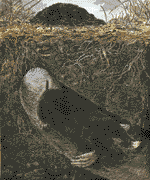 Mole activity is at a peak. One grass verge is peppered with mole hills, regularly spaced every two feet or so. There are more in the fields nearby.



After last year's foot and mouth disaster it's good to see lambs in the fields again. Let's hope this will be a better year for Britain's farmers, and for us all.

Calling for a mother's day morning coffee at Barbara's mum's I sit on a sofa with a view of a familiar corner of rural Suffolk in front of me. Constable's Haywain hangs on the wall, a large print, now losing its colour, which Barbara's dad saw years ago when he called in a local do-it-yourself store. He instantly took a liking to and bought on the spot.

Although it's become something of a cliché for a rural idyll it's actually a portrait of a landscape. Reproduced on this scale you can see the workers in the field in the background. I sketch the rhubarb-like leaves in the bottom left-hand corner of the picture, not far from the dog in the foreground.

Constable liked to use large leaves of this sort to animate the shady corners of his landscapes. He'd often show them ruffled by the wind to reveal the lighter undersides of the leaves.

As I sketch them, I notice that they are surrounded by a roughly made wicker fence, so perhaps they're not butterbur leaves, which is what you'd expect to find on a riverbank, perhaps it's a rhubarb patch at the end of a cottage kitchen garden.



Richard Bell,
wildlife illustrator
E-mail; 'richard@willowisland.co.uk'

Next page Previous page This day in 2000 This month Nature Diary Home Page