Italian Ryegrass

Page 2 of 2, Sunday, 2nd June 2002, West Yorkshire




Rocks | History | Workshop | Links | Home Page



This grass grows a metre tall in a lush clump at the foot of the bird table.

From the herring bone arrangement of flower spikes on its gently zigzagging stem I'd guess that it is cereal rye if it wasn't that rye has long awns (bristles); halfway between wheat and barley in the growth of its 'beard'. It's probably Italian ryegrass, Lolium perenne, or one of its cultivars or hybrids, which is grown as a fodder plant. It has become naturalised on roadsides and field edges.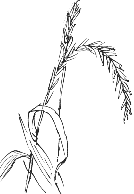 Because of the position in which it's growing I guess that it might have sprouted from bird droppings or from spilt grain that we've put out for the birds.

The flowers have been opening during fine weather with tiny anthers, the pollen-bearing parts of the flower, hanging from each flower. The spikelets are up to 1.5 cm (3/4") long in a head up to 30 cm (1ft) long. Each individual flower has an awn as long again as the flower itself.



Richard Bell,
wildlife illustrator
E-mail; 'richard@willowisland.co.uk'

Next page | Previous page | This day in 2000 | This month | Nature Diary | Home Page