Opium Poppy

Friday, 26th July 2002, West Yorkshire




Rocks | History | Workshop | Links | Home Page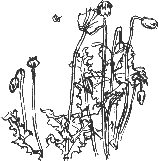 It's the opium poppy, not us, that decides where it wants to grow in our garden. It's an attractive plant to draw because there's nothing fussy about it and it keeps its interest right through the autumn when the pepper-pot seedheads attract spiders and wintering insects, as well as the blue tits that feed on them.

And that's it. This 10 or 15 minute sketch is all that I've drawn today. Apart from research for my book much of the day was spent in writing letters about local footpaths.


The 'Regeneration' Game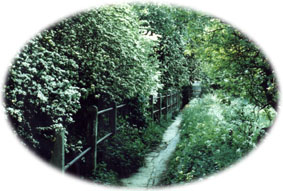 With my abysmal record in attempting to promote conservation in this 'regenerating' (to use the current euphemism for unbridled development of greenfield sites) corner of West Yorkshire, you'd think that I'd have realised by now from the legal threats made against me, the mysteriously disappearing documents and the outright denial of the truth of the wildlife records that I put forward that my contributions are not welcome and there is no place for the truth within the 'constraints imposed upon us by the law as it stands' (to use another euphemism that I've had quoted at me).


Leave only footprints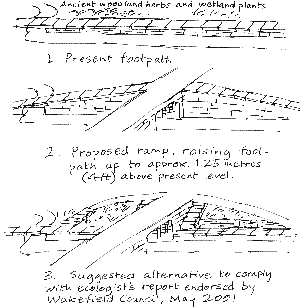 The great wholeness of nature is chopped into little pieces to be 'regenerated' into houses, warehouses, hotels and all the other necessities of our daily lives. So, when it comes to the old causey stone footpath (above right) alongside our local beck, although a specially commissioned Environmental Report calls for the retention of 'ancient woodland herbs and wetland plants' this can, within the narrow confines of planning law, be interpreted as sanctioning the complete annihilation of the vegetation, which will be buried by up to 4 feet of spoil.

However the Council have agreed to consider an alternative scheme that I've sketched out (left, sketch 3), so who knows?!

By the way, I'm not a law-breaker, far from it, but I can't change the laws of nature just because it might be expedient for the purposes of regeneration. I would so like to be able to tell the truth without all these obstacles and threats.

If you're like me and you're aware of nature, inspired by it, you'll realise the impossibility for some people - certainly some developers - of seeing and experiencing the natural world for what it is.

'Why don't people, instead of the idiocies they do spend their time on, just walk around looking at things?' wrote Orwell, ' . . . all the while the sort of feeling of wonder, the peculiar flame inside you. It's the only thing worth having, and we don't want it.'


John Muir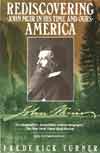 So is it possible to do that; just look? Or do we have some duty to the world?

Experiencing wild nature was the driving force behind the work of pioneer conservationist John Muir (1838-1914). I'm reading Frederick Turner's biography Rediscovering America at the moment. Here's a passage from the time that Muir was trying to resolve this dilemma, during his three years in Yosemite;


'One's vocation now seemed a simple enough matter: what was it you really wanted to do? Find that out, he thought, and then do it. In the great clarity of these mountain days he saw that it did not make any great difference in the world or to the world how he spent his life - and it never had. So long as he might be close to what he called the beating bosom of nature and so be true to himself - that was vocation enough.'

In fact the pressure from his friends, who included Emerson, to come down from the mountains and preach his message proved too much for Muir. But, if he hadn't, perhaps we would never have had national parks as we know them today.



Richard Bell,
wildlife illustrator
E-mail; 'richard@willowisland.co.uk'

Next page | Previous page | This day in 2000 | This month | Nature Diary | Home Page