Weeping Ash

Thursday, 19th September 2002, West Yorkshire




Rocks | History | Workshop | Links | Home Page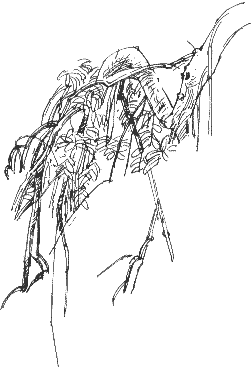 After the usual hectic day I've got just half an hour before a meeting at Greenhead College, Huddersfield, and it's such a pleasant afternoon that I take a seat at a picnic table in the leafy grounds of the college and settle to sketch this weeping ash.

It's at times like this that I wish that I could draw in the calligraphic style of the old Chinese and Japanese masters. This twisted bough could have come straight from their 'floating world'.

There must have been a fashion for planting these weeping ashes. My primary school in Horbury had one, growing in a corner the tarmac playground. Every child at some time during their time at the school must have drawn it, often in pastels on sugar paper.




A pigeon and a crow fly over and it's not long before this magpie lands near the branch and pushes itself into my picture. Again its the sort of elegant bird that you'd find gracing the branches a tree in a Chinese brush drawing.



Richard Bell,
wildlife illustrator
E-mail; 'richard@willowisland.co.uk'

Next page | Previous page | This day last year | This month | Nature Diary | Home Page