Clematis Seeds

Sunday, 29th September 2002, West Yorkshire




Rocks | History | Workshop | Links | Home Page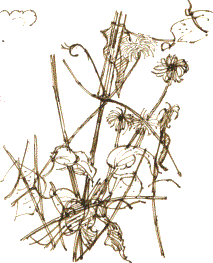 It's been the driest September for twelve years and, as the weather seems settled, we might even beat that record.

As I draw this Clematis, growing up a pergola at my mum's, I'm taking it to be old man's beard, also known as traveller's joy, Clematis vitalba. It's only now I come to write up my notes that I realise that it's not our wild species, it's a type of garden clematis. As far as I remember in the summer it had pale lilac flowers about two inches across. I guess that it will soon, like its wild relative, produce feathery seeds.

It's typical of me that I should find the seedheads and the curling yellowed leaves more attractive to draw than the showy flowers. It's a subject that suits pen and ink and my 'nervous' linework.



In the afternoon sun a comma butterfly continues to visit our ice plant. A robin flits down three feet away from me and perches on the edge of one of the veg beds as I work on a path digging out surface spreading grass runners and deeper white fleshy coltsfoot rhizomes.



Richard Bell,
wildlife illustrator
E-mail; 'richard@willowisland.co.uk'

Next page | Previous page | This day last year | This month | Nature Diary | Home Page